Welcome to Puzzlevent 2023!
Rising from its 11-month slumber, Puzzlevent is back for 2023! This advent calendar is a month-long cryptic crossword. From December 1, three new cryptic clues will be released daily, but without saying how long their answers are or where they go in the grid – that information gets revealed over time. On December 25, 17 clues will be revealed instead as a bumper treat.
Clues are revealed each day on Mastodon @danielpeake@mastodon.social and here at puzzlevent.com
This year, I'm offering a book for one lucky winner:
WIN THE ORDNANCE SURVEY PUZZLE BOOK: LEGENDS AND LANDMARKS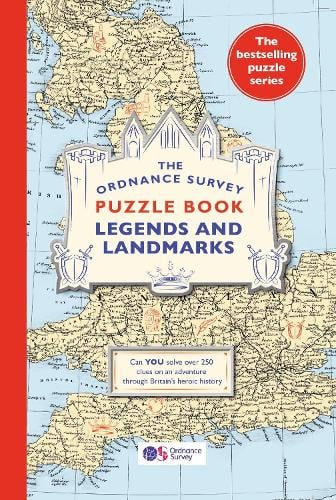 Track down hidden treasures, decipher geographical details and pit your wits against puzzles ranging from straightforward to brutally difficult. And I would know about the range of puzzle difficulty, as I am proud to say that I wrote the puzzles for the book! It kept me out of mischief for a while, for sure.
To enter, fill in your crossword grid and email it to puzzlevent@danielpeake.com before the end of 2023. In 2024 I'll randomly select entries and the first correct solution chosen will win. Terms and conditions are on the puzzle PDF.
Enjoy the advent calendar, and good luck!
| | |
| --- | --- |
| CROSSWORD GRID | >>GRID HERE<< |
| DAY 1 | DAY 1 |
| DAY 2 | DAY 2 |
| DAY 3 | DAY 3 |
| DAY 4 | DAY 4 |
| DAY 5 | COMING SOON |
| DAY 6 | COMING SOON |
| DAY 7 | COMING SOON |
| DAY 8 | COMING SOON |
| DAY 9 | COMING SOON |
| DAY 10 | COMING SOON |
| DAY 11 | COMING SOON |
| DAY 12 | COMING SOON |
| DAY 13 | COMING SOON |
| DAY 14 | COMING SOON |
| DAY 15 | COMING SOON |
| DAY 16 | COMING SOON |
| DAY 17 | COMING SOON |
| DAY 18 | COMING SOON |
| DAY 19 | COMING SOON |
| DAY 20 | COMING SOON |
| DAY 21 | COMING SOON |
| DAY 22 | COMING SOON |
| DAY 23 | COMING SOON |
| DAY 24 | COMING SOON |
| DAY 25 | COMING SOON |
| DAY 26 | COMING SOON |
| DAY 27 | COMING SOON |
| SOLUTION | COMING IN 2024 |